Resources, Links, Ideas & Articles on Exhibition Shopfitting Retail Display Systems - In and Beyond Malaysia, Asia
Are You Maximizing Your Sales With Your Display?
Nov 21st, 2008
The placement of your products can never be downplayed because let's look at it this way and let's start with people who like to window-shop. As people walk past a busy street, they'd glance through the glass window to see if they find anything interesting in there that might warrant a second look. If nothing grabs their eye, they walk on. If something does, they stop and take a second look. Window-dressing using the right type of display units on your wall, therefore, plays a huge role in attracting new fans or purchasers.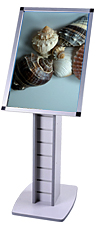 Secondly, even if you have regular customers or customers who have bought stuff from your shop before, they should be alerted about these new products of yours whenever they walk past your store. For example, if you're running a new promotion, you can use a simple poster display to bring attention to the promotion that you're running – it's easy as simple as that!
However, we strongly urge retail shop owners from simply pasting the poster onto the glass window because, first, it would ruin the glass window and secondly, it really does nothing to your image! Invest in a reasonably-priced poster display frame that helps you highlight the promotion without ruining the glass. Some companies sell double-sided frames and poster display units that allows you to put up two posters at the same time! I personally feel that it's a brilliant idea because on one side, you can place a captivating poster that attracts the attention of the potential buyer and in the meantime, you can place a poster with in-depth detail, product pictures and price on the other side….something for the buyers to take a look at when they're INSIDE your store.
And there's also the issue of the type of display unit you use to 'show your products to the world', the people who MAY be interested in what you have to sell. Don't forget, the less complicated it is, the more attention it will bring to your products. However, 'less complicated' means that it's easy to set-up and move around too.
Innovative designs and beautiful colors make for a good display unit. As important as price is to your decision-making process, bear in mind that quality is just as important. You don't want something flimsy that crumbles at the slightest touch. And if you're in the business for the long-haul, it pays to invest in a quality display unit that can last you for a long time to come instead of something that you would have to replace within three months.
*** *** ***
THIS ARTICLE IS COURTESY OF....
For ideas and uniquely different yet affordable shopfitting and wall-mounted display systems, check out our Decowall Plankwall wall-mounted retail outlet shop display system right now. Be stunned with our flexible and affordable these wall-mounted display systems can be. Formedge is a leading Malaysian-based exhibition and shopfitting display system provider. It's a name that you can trust...
Republication rights: This article is copyrighted by Formedge (M) Sdn. Bhd. Please do not reuse, republish with or without editing the article and altering the article without explicit permission from Formedge (M) Sdn. Bhd. If you wish to republish this article in your blog or website, please copy and paste the above paragraph (including the links) after the article.