Resources, Links, Ideas & Articles on Exhibition Shopfitting Retail Display Systems - In and Beyond Malaysia, Asia
Display System That Supports You And Not The Other Way Around
Dec 1st, 2008
Being in business is all about change and adapting different styles – this is particularly true if you have a retail outlet. This depends on how regular you change the products that you display in your shop and how much you decide to change it from time to time but here are some tips on how to buy good, quality shopfitting display products that supports you without YOU needing to bend to its inflexibilities.
On the wall, on the floor
Slatwall. That's what we're talking about. If you've never heard of slatwall display system, you're probably new in the retail business but are trying to find something that can last you for a long time, save you space and yet look pretty at the same time. That could be challenging…but not if you've seen what the slatwall system can do.
Many companies offer the slatwall display system, some better than others and some cheaper than others. But if the honest truth was to be told, I am going to be really honest with you…go for the quality. Whatever it is, whether it's slatwall or any other types wall-mounted display systems, flexibility is absolutely not to be compromised! There are some display products out there that allows you to remove the system from the wall and then lets you come up with a gondola of your own design.
Easy installation is essential
Nobody wants to buy a display system that requires a week's work! You're better off doing up your shop with a little bit of renovation. Wall-mounted systems like slatwall display units are so easy to install and recreate that all you need is a little bit of time to study the structure so that you'll know how to put it all together and take it all apart later on. This is crucial because, for instance, if you are trying to feature SOME of the products that you're selling using a gondola (a floor-based spinning shelving system), you'd want to have something readily available to you RIGHT NOW and you don't have to go out and get something completely new.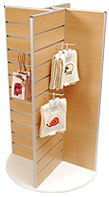 Flexible with plenty of accessories to choose from
The prongs and brackets that you can get from your slatwall display unit will help you display all types of products in your store. From golf products to clothing, you can change the way you display your products with your shelving units by merely changing the accessories.
If you're selling clothes, for example, you'd want to be able to place hooks on them that allows you to display your products conveniently to your customers. On the other hand, if you're selling shoes, you'd want something that presents the products at a very good angle.
De-cluttering is an essential part of maximizing the potential of making a sale every time someone enters your store. If there's clutter and mismatching décor, chances of you making that sale right there and then is minimal. Worse yet, if this potential customer is turned off at the mess at your place, chances are, this person probably won't come back for a second look.
So, choose wisely, carefully and prudently.
*** *** ***
THIS ARTICLE IS COURTESY OF....
For ideas and uniquely different yet affordable shopfitting and wall-mounted display systems, check out our Decowall Plankwall wall-mounted retail outlet shop display system right now. Be stunned with our flexible and affordable these wall-mounted display systems can be. Formedge is a leading Malaysian-based exhibition and shopfitting display system provider. It's a name that you can trust...
Republication rights: This article is copyrighted by Formedge (M) Sdn. Bhd. Please do not reuse, republish with or without editing the article and altering the article without explicit permission from Formedge (M) Sdn. Bhd. If you wish to republish this article in your blog or website, please copy and paste the above paragraph (including the links) after the article.