Resources, Links, Ideas & Articles on Exhibition Shopfitting Retail Display Systems - In and Beyond Malaysia, Asia
Either Side, You Win
Jan 5th, 2010
I was minding my own business one afternoon walking, window-shopping with a couple of friends in the mall, when something really bright and interesting caught my eye. It was a picture of the latest cell phone floating or flying off somewhere on a helium balloon. Conceptually, the advert is extremely creative. Eye-catching and made me really curious about the product.
So, being curious, I walked into the store to get more information (ie. Pricing and specs) of the said phone when the back of the poster caught my eye. Yup, the pricing and specs, of course.
The double-sided poster is an interesting concept because it saves you a whole lot hassle as a sales person and business owner. If you had two staff serving at the retail out and eight customers were interested in something that you had to sell, would you say that you are losing some business?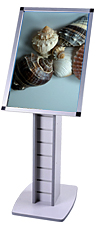 Oh yes, absolutely! And nobody likes losing business.
Thankfully, and lucky for you and me, there are plenty of options out there in the market today. And the good ones usually come with super strong suction cups that don't deteriote too quickly. But more importantly, they provide support so that if anything was to go wrong with the said poster display frame and suction cup, you have someone to go back to for replacement or replenishing of supplies.
Some say that the double-sided poster display frame acts as a double-edged sword too because you can choose to display one poster on one side, and then another poster on the other. Either way, these poster display frames are so versatile that you can literally team it up with other accessories, like a stand, to help it look better. For exhibitions, the stand will come in handy; when the exhibition is over, remove the stand, attach suction cup and the poster display frame will be back up on the window of your retail outlet.
See how this will work in your favor and save you money yet?
*** *** ***
THIS ARTICLE IS COURTESY OF....
For ideas and uniquely different yet affordable shopfitting products and wall-mounted display systems, check out our Decowall Plankwall wall-mounted retail outlet shop display system right now. Be stunned with our flexible and affordable these wall-mounted display systems can be. Formedge is a leading Malaysian-based exhibition and shopfitting display system provider. It's a name that you can trust...
Republication rights: This article is copyrighted by Formedge (M) Sdn. Bhd. Please do not reuse, republish with or without editing the article and altering the article without explicit permission from Formedge (M) Sdn. Bhd. If you wish to republish this article in your blog or website, please copy and paste the above paragraph (including the links) after the article.