Resources, Links, Ideas & Articles on Exhibition Shopfitting Retail Display Systems - In and Beyond Malaysia, Asia
Exhibition Display Product Hunting Low-Down
May 7th, 2009
Installing, fixing, arranging, and then dismantling can be a hassle. Add heavy equipment to move around….it's enough to make a man want to tear his hair out! That is why I always suggest to people who bother to ask me to instead of lugging their exhibition equipment around, they should get something that they can fold and pack into a bag or something that comes with wheels.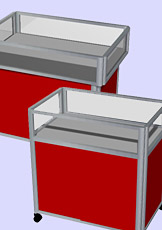 Don't jump into the first bandwagon
When it comes right down to purchasing exhibition equipment, here's an important rule of thumb….never, almost always, never purchase from the first exhibition display company that you chance upon. I know you get all excited and all that but what you need to do is to talk to the sales assistants a little, get their brochures, a card and a link to their websites where you can find more information.
Getting exhibition equipment is quite a big investment so, you need to really sit down and think about it.
Don't be afraid to ask
Whenever you have a question, ask….don't worry even if you think others will think of it as silly or ignorant. Just ask because you have every single right on this planet to know what it is that you're getting into. You should ask them stuff like where they get their raw materials from, is there a warranty and if yes, for how long; you should also ask them if there were defects or you need replacement parts, would it be easy for you to find them.
Let's look at it this way, you'd be doing yourself or your company or your employer an injustice if you bought the wrong product or if it didn't last you as long as you thought it should.
Compare prices and go with your instinct
It is advisable to sit down with a worksheet so that you can list down all the products that you have seen, compare the prices, weigh all the options and then make a decision. There could be other exhibition display product companies out there who are having a promotion; or the same product that you're looking may have a smaller price tag somewhere else. Who knows?
If you've the time for it, ask around to see where others got their exhibition display equipment. They might have a good reference or perhaps a relative who runs a shop like that or at least, knows someone who knows someone who….well, you get the point.
I will be leaving you on this note….don't just look at the price tag. Look at the quality of the product, the service you're getting and the promptness of their response.
*** *** ***
THIS ARTICLE IS COURTESY OF....
For ideas and uniquely different yet affordable exhibition systems, visit Formedge's website at http://www.formedge.com.my. Formedge is a leading exhibition and shopfitting display system provider. It's a name that you can trust...
Republication rights: This article is copyrighted by Formedge (M) Sdn. Bhd. Please do not reuse, republish with or without editing the article and altering the article without explicit permission from Formedge (M) Sdn. Bhd. If you wish to republish this article in your blog or website, please copy and paste the above paragraph (including the links) after the article.