Resources, Links, Ideas & Articles on Exhibition Shopfitting Retail Display Systems - In and Beyond Malaysia, Asia
Glass Cabinets Are Fantastic
Oct 7th , 2010
One of the biggest advantages of using glass cabinets in a store is because of the transparent panels, you have many fantastic and creative ways to play with lighting. How does one play with lighting, you might ask? Well, it's pretty simple.
The products on display are clearly and easily visible from the outside whenever the surrounding is well-lit. However, if the lights are low, you can emphasize on the product, play with the by placing a light on the inside of the glass panel. All you need to install is a simple light bulb. If unsure, we reckon hiring a professional lighting expert to come in for a quick look. For products with reflective or shiny surfaces, your customers will love the effect.
Formedge's glass cabinets and storage space are extremely lightweight and it does not compromise the stability of the unit. You will have to come to our showroom and see it for yourself.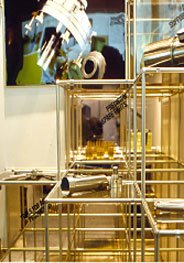 While book cases and other shelving systems do not keep the dust away from the products, glass cabinets with doors will keep the sparkles right on the product. It is cumbersome to continuously get the staff to wipe each and every product on an everyday basis (especially if your products are earrings, diamonds, rings and necklaces). Customers will not be impressed with reflective light catches dusts on the products. Hence, it is always a good idea to keep the products in a dust-proof environment.
Another wonderful feature of glass cabinets is that it is so flexible that you can use it in the home or in a retail outlet – it results in the same brilliant look. All that needs to be done, every once in a while, is to run a wet cloth over the inside and outside surface of the cabinet and they will stay stain-free for as long as you need.
As a retail outlet owner, we can't tell you enough number of times how important it is to have clean, easy to view product shelving units installed into the store.
So, think no more. Give us a call or visit our website for more information about those timeless glass cabinet units.
*** *** ***
THIS ARTICLE IS COURTESY OF....
For ideas and uniquely different yet affordable exhibition systems, visit Formedge's website at http://www.formedge.com.my. Formedge is a leading exhibition and shopfitting display system provider. It's a name that you can trust...
Republication rights: This article is copyrighted by Formedge (M) Sdn. Bhd. Please do not reuse, republish with or without editing the article and altering the article without explicit permission from Formedge (M) Sdn. Bhd. If you wish to republish this article in your blog or website, please copy and paste the above paragraph (including the links) after the article.