Resources, Links, Ideas & Articles on Exhibition Shopfitting Retail Display Systems - In and Beyond Malaysia, Asia
Look At Those Groovy Walls
Nov 15th , 2008
When you think along the lines of putting grooves on the walls of your shop, your first reaction would be 'Ack! Major renovation, painting and lots of smoking hot bills to settle.' But this cannot be further from the truth. If you're a growing retail shop owner who have to contend with how to display all the products that you have in your shop in an orderly and organized manner, you've probably heard of slatwall panels or slatwall display shelving units. For those who have not heard of the term 'slatwall', here's what they actually are.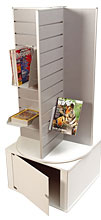 In order to have slatwall panels installed in your shop, you DO NOT need to hire renovators and interior decorators to dig holes into the walls of your shop! Not a single one. By doing a little bit of research into slatwall paneling units and shopfitting products, you'll soon see that all it involves is some basic drilling and we're talking about drilling and fitting of huge wall-sized panels with ready-to-use grooves in them.
Many people have started using slatwall panels in replacement of the conventional shelves and display options simply because the conventional method did not give people much choice in creating more space on the floor. With products that hooks to the wall, it's easier to 'create' a new look or rearrange the products on the display unit according to need or design. There will come a time when you need to display more than you have anticipated and there will also come a time when you need to adjust the products whether for a promotion or to make space for clearance products.
When you use conventional shelving system, the limitation would soon become apparent. Size of products, weight, length of shelves, clumsy movement, fitting problems, you name it, you will face it. Some display units is not as mobile as others and can only fit into corners. Some others are too heavy to move. To eliminate part of the problem related to product display, the slatwall product display unit was created.
When the system was first introduced, people were skeptical and unconvinced about its usefulness and convenience. By the sheer size of these panels, it's reasonable for some people to assume that having these huge panels fixed onto their walls would require a big, hefty bill to settle.
Although a slatwall panel product display unit may not solve ALL problems, it serves as one of the most flexible, user-friendly, and cost-effective groovy systems so far.
*** *** ***
THIS ARTICLE IS COURTESY OF....
For ideas and uniquely different yet affordable shopfitting and wall-mounted display systems, check out our Decowall Plankwall wall-mounted retail outlet shop display system right now. Be stunned with our flexible and affordable these wall-mounted display systems can be. Formedge is a leading Malaysian-based exhibition and shopfitting display system provider. It's a name that you can trust...
Republication rights: This article is copyrighted by Formedge (M) Sdn. Bhd. Please do not reuse, republish with or without editing the article and altering the article without explicit permission from Formedge (M) Sdn. Bhd. If you wish to republish this article in your blog or website, please copy and paste the above paragraph (including the links) after the article.