Resources, Links, Ideas & Articles on Exhibition Shopfitting Retail Display Systems - In and Beyond Malaysia, Asia
Organize Your Exhibition For Maximum Potential
March 19th, 2009
Getting involved in an exhibition is an integral part of exposing your business and brand to a huge audience at one go. That is why you should make every effort to ensure that you have everything ironed out before the exhibition date rolls around. The success of your exhibition effort will depend very heavily on how organized you are.
First of all, ensure that you have registered yourself early. In most countries, registration and payment begins many months ahead of time. When the call for registration comes around, do not delay. Once you've decided to participate in the exhibition, get all the paperwork done early to book yourself a booth and make the payment early.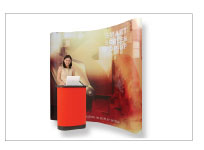 The next step would be to work with your marketing and promotions team on the focus of the exhibition. What would you like to introduce to the market or push during the exhibition? Is it an old but re-branded product or the wonderful new technology that you think will capture a huge market? This is important because you're going to use this strategy to organize your exhibition booth.
If you're from out of town, here's another thing to organize before the date rolls around….the accommodation and transportation for the crew of people who would be manning your booth during the exhibition. The place that you book could be an apartment or hotel rooms but the most important thing is for it to be near to the venue of the exhibition. If it is not, be sure that there is transportation organized for them. Most of the time, organizers of the exhibition would have tied up with some hotels or accommodation providers that provides for big discounts for group purchase.
Back in the office, especially if you're new to the exhibiting scene, get your people to sit around and design the booth. You would want to have a vibrant and attractive backdrop set against a host of display areas featuring your star products. Organize them in sections so that it's easy for your potential business partners, customers or affiliates to browse through when they're there.
Of course, if you're planning to hand out leaflets, brochures, free gifts or company profiles out during the event, get them ready a couple of months ahead of time so that there's room to make corrections if there are errors.
*** *** ***
THIS ARTICLE IS COURTESY OF....
For ideas and uniquely different yet affordable exhibition systems, visit Formedge's website at http://www.formedge.com.my. Formedge is a leading exhibition and shopfitting display system provider. It's a name that you can trust...
Republication rights: This article is copyrighted by Formedge (M) Sdn. Bhd. Please do not reuse, republish with or without editing the article and altering the article without explicit permission from Formedge (M) Sdn. Bhd. If you wish to republish this article in your blog or website, please copy and paste the above paragraph (including the links) after the article.