Resources, Links, Ideas & Articles on Exhibition Shopfitting Retail Display Systems - In and Beyond Malaysia, Asia
Organize An Exhibition Without Tearing Your Hair Out
May 4th, 2009
Organizing an exhibition is very rarely easy and if it is, you're either lucky or have hired someone to do the dirty deed for you. For those who don't have a large budget, here are a couple of exhibition tips to get you going so that you won't have to waste time and money going back on time and doing things over and over again.
Rule number one, keep a list of contacts ready….in one document, or in a list. Keep it close to your heart, your desk and dump it into your briefcase of handbag if you can. Trust me, even if you think you've got it made with emails, facebook, twitter or whatever it is that you're using to keep yourself organized for the big exhibition day, things can go wrong and there's nothing worse than having to dig around for some guy's number and wasting time.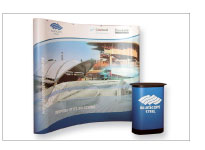 Rule number two, have a plan and don't change the plan last minute. You can fit minor things into the list at the end of the day, but nothing big because when you try to slot something big into an exhibition, you're going to run around like you're berserk. If it's something your boss insists on, let someone do the running around telling your boss that you've got your time on a leash as it is.
Rule number three, print fast, print early. I am talking about all those marketing materials and literature you're planning to distribute during the exhibition. This is a tip you can't ignore because we've personally seen how people go haywire trying to sort out printing errors and screaming down phone lines trying to get the materials out a day before the exhibition is set to go off. Once you've got the general idea about the direction you're planning to head, put it together with the copywriter and graphic designer for ideas and get it sorted out very quickly. This is something you don't want to lose sleep over as the exhibition day draws near. By the way, this includes those extra business cards.
Rule number four, get to know the space and design it beforehand. Knowing the kind of space that you're allotted during the exhibition gives you enough time for planning ahead. You would want to think about what to put into that corner, the number of electrical outlets available and where to put the projector. You'll also have time to color-coordinate the whole theme of your booth without feeling like you want to knock yourself over the head with a hammer.
Rule number five, work together as a team. You could have been assigned the role of leader in the team but exhibitions are rarely organized singularly as an individual. You have team members and each of them should be assigned their own tasks. Trust them, believe in them and give them what they deserve when they don't meet the deadline. Bottom line is that organizing an exhibition is never a one-man-job.
*** *** ***
THIS ARTICLE IS COURTESY OF....
For ideas and uniquely different yet affordable exhibition systems , visit Formedge's website at http://www.formedge.com.my. Formedge is a leading exhibition and shopfitting display system provider. It's a name that you can trust...
Republication rights: This article is copyrighted by Formedge (M) Sdn. Bhd. Please do not reuse, republish with or without editing the article and altering the article without explicit permission from Formedge (M) Sdn. Bhd. If you wish to republish this article in your blog or website, please copy and paste the above paragraph (including the links) after the article.