Resources, Links, Ideas & Articles on Exhibition Shopfitting Retail Display Systems - In and Beyond Malaysia, Asia
Positioning Of Shelves In Retail Outlet
May 26th, 2010
The positioning of the shelves in your shop could very well have lots to do with how well your business is doing. Some people are just turned off by clutter and unkempt stores, so, even if you are selling something that they love, they could end up buying from a competitor. That would be such an incredible waste to your company! Therefore, before you purchase the shelves and display units in your store, you need to have a basic plan and the basic plan should include the following:-
Clear space – No one likes to go shoulder to shoulder with your other customers whenever they shop there. Therefore, you will need to have some clear space that is enough for at least two people to walk past each other at the same time. Unless you live in a space-deprived country like Hong Kong where space is indeed a problem. If there are things that you can do without, keep minimal number of items out on the shelving display units and keep the rest in a warehouse, a backroom, office or store. If the items are required, bring them out.
Some push wagons come with wheels – and they are so convenient! With such push wagons, you get to store products within the drawers and also on top of the wagon. So, there is absolutely no need for you to put everything on display right at once, because that will make the place very messy and hard to browse.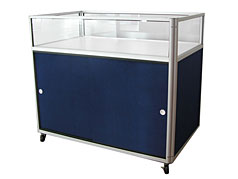 Clutter-less floor. Oh, the importance of keeping products off the floor! The impression that your customer forms of you and your company is based on how much effort you have put into making your place a nice, clean and comfortable one. With products littered all over the floor and inside the display units, it becomes a big turn off. Worse yet if it is a first impression.
Placing is everything. Last but not least, position your key products at the most prominent place in the store. The most popular products, fast moving goods, products on sale or things that you want to get off should be prominently placed near the entrance or counter. People take notice of products most at the point that they enter the store and the point when checking out.
*** *** ***
THIS ARTICLE IS COURTESY OF....
For ideas and uniquely different yet affordable exhibition display units, visit Formedge's website at http://www.formedge.com.my. Formedge is a leading exhibition and shopfitting display system provider. It's a name that you can trust...
Republication rights: This article is copyrighted by Formedge (M) Sdn. Bhd. Please do not reuse, republish with or without editing the article and altering the article without explicit permission from Formedge (M) Sdn. Bhd. If you wish to republish this article in your blog or website, please copy and paste the above paragraph (including the links) after the article.