Resources, Links, Ideas & Articles on Exhibition Shopfitting Retail Display Systems - In and Beyond Malaysia, Asia
Stack it, stack it, stack it all up
Nov 8th , 2008
Having been in the exhibition display system industry for such a long time, I would have to say this….many people, surprising many, don't know how to make full use of the 'air space' in their shops or during an exhibition. Their thoughts of staying within the confines of 'eye level' view for their customers or visitors is a too shallow. Here's a secret to those who are looking for ideas on how make complete use of the space of their shops.
Stack it, stack it high
There are many types of shopfitting display systems available today that allows for complete, very complete, flexibility. I would like to use the example of a lego set into the picture. In order to create just the type of shopfitting or exhibition display system that you want, you need to find something that gives you the power to stack units up, beside, under and along each other…albeit, in a very fashionable way, of course.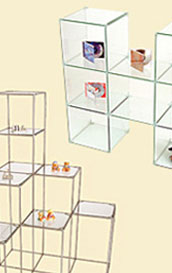 Safe stacking
As with foodstuff, there are fresh ones and there are week-old ones. As with television sets, there are good ones that lasts you for decades and then there are those that needs regular maintenance on a weekly basis.
Well, the same rule applies to a shopfitting display system or an exhibition display unit. Along with quality, you get organize and control the way you display your products in your shop without losing out on the safety front. Stability and ability to temporarily lock the portable modular systems in place is crucial unless you're not worried about stacking units falling off and landing on your customers.
So, quality is number one. Price is number two.
Ease of use
True, while most shopfitting display units comes with rather in-depth manuals and you can literally design your very own display area within a couple hours, there are those that don't live up to their words.
And don't you just hate it when you find out that in order to come up with your own exhibition display or shop display, you'll need to order 'extra' tools that you can't find anywhere else?
Some sales people will tell you, 'Yes, if you want this, you'll need that, that and that' BEFORE you purchase. But bear in mind, some would prefer to keep 'mum' about it until you call them…and that is when they'll pop you a sales pitch for 'additional products' or 'supporting features'.
*** *** ***
THIS ARTICLE IS COURTESY OF....
For ideas and uniquely different yet affordable shopfitting and wall-mounted display systems, check out our Decowall Plankwall wall-mounted retail outlet shop display system right now. Be stunned with our flexible and affordable these wall-mounted display systems can be. Formedge is a leading Malaysian-based exhibition and shopfitting display system provider. It's a name that you can trust...
Republication rights: This article is copyrighted by Formedge (M) Sdn. Bhd. Please do not reuse, republish with or without editing the article and altering the article without explicit permission from Formedge (M) Sdn. Bhd. If you wish to republish this article in your blog or website, please copy and paste the above paragraph (including the links) after the article.