Resources, Links, Ideas & Articles on Exhibition Shopfitting Retail Display Systems - In and Beyond Malaysia, Asia
The Gondola Explained
Dec 23rd , 2008
Look usp the word 'gondola' and you'll find out why if you mention the word 'gondola' to the people in Venice, they would look at you and point to the river. You see, the origin of the word 'gondola' came from a boat….yes, a type of flat-bottomed boat that has a tall stem and stern. There's no motor to it and usually one person would have to stand on either end of the gondola to 'row' it. It's a common sight in the canals of Venice.
However, in the retail industry, a gondola is type of display shelving unit…it's ornamental and it certainly floats (freestanding) and usually strategically placed right in the middle of the retail outlet to display all the important products. There are many different types of gondola displays and there is a countless number of people using gondola display units in their shops and their usefulness can never be undermined. But here are some facts for you to take into consideration before purchasing a gondola display unit for your store.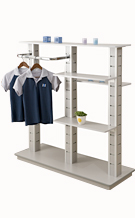 Consider the layout of your retail shop. Remember, a gondola display is usually freestanding, therefore, think about the layout plan of your store before purchasing…with the wrong size gondola display, you could very well end up cramping up all the available spaces in your shop…and you DON'T want that.
Try not to purchase used gondola display units. We've got nothing against used gondola display units just because we sell perfectly new ones. That's not it. Fact is this…you don't know the history behind the used shelving unit! It could have been used for thirty years, then sold and refurbished to look just 'as good as new'. Unless you're willing to compromise the safety of your customers who are walking in and out of your store, not to mention the safety of your products, try investing in a new gondola unit instead.
Height issues. On top of considering the size of the gondola you're about to purchase, let's put a little bit more thought into the height of the gondola shelf. Most of the time, when you have customers walking in and out of the shop, you would want a clear view of who is looking at what and what kind of stuff they're picking up and looking at. We're being pretty honest here…you don't want people walking out with your products without you noticing it and it happens. If the gondola shelf is too high, it might block your view of your customers unless you've got cameras hidden.
Spin it. It annoys some people when they have to walk all the way around just to see what's on the other side. The beauty of having a rotating gondola shelving system in your retail outlet is that it's flexible, extremely mobile and it makes shopping less of a pain for your customers. Don't you agree with us when we say that the less painful it is for your customers, the happier they are and the happier they are, the more likely they will purchase something from you?
*** *** ***
THIS ARTICLE IS COURTESY OF....
For ideas and uniquely different yet affordable shopfitting and wall-mounted display systems, check out our Decowall Plankwall wall-mounted retail outlet shop display system right now. Be stunned with our flexible and affordable these wall-mounted display systems can be. Formedge is a leading Malaysian-based exhibition and shopfitting display system provider. It's a name that you can trust...
Republication rights: This article is copyrighted by Formedge (M) Sdn. Bhd. Please do not reuse, republish with or without editing the article and altering the article without explicit permission from Formedge (M) Sdn. Bhd. If you wish to republish this article in your blog or website, please copy and paste the above paragraph (including the links) after the article.