Resources, Links, Ideas & Articles on Exhibition Shopfitting Retail Display Systems - In and Beyond Malaysia, Asia
What You Donít Say About Your Shop, Your Shop Says It For You
December 9th , 2008
Have you ever walked into a shop and have a sudden feeling of being completely at home and would love to spend many hours just browsing through all the stuff they have in there? Turn the situation around, have you walked past a shop despite the fact that you were interested in purchasing something from the shop because of the way it looks? I am sure many of you have experienced either one or both because we sure have. As shopfitting and exhibition display specialists, we have seen one too many of such potential customers walk away simply because the customers were…very simply said, visually turned off!
Shopfitting display is a crucial part of being in business because with such a simple reason, people actually DO walk away without buying something. The same thing with not organizing the products that you display on your shopfitting display systems properly. Consumers generally want things easy to find and easily available to them. Clutter will drive them away. That is why interior designers and shopfitting display specialists are hired to help shop owners create a space that 'invites' and 'calls out' to people who walks by.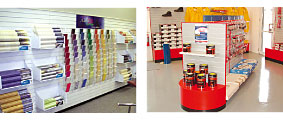 Comfort tops the list of importance because most people purchase things based on how they feel. When you use the right shopfitting display products in your shop, something that improves their shopping experience, it makes them happy to be in the shop. With simple yet practical shopfitting display products, you're actually selling your company without having to push too hard on the hard-selling bit (read: sales people who tail you till you purchase something).
However, even with that said, shop owners have to realize that everyone's needs and preferences differ. While one type of shopfitting display products attracts one type of purchaser, it could very well turn another group of potential buyers off – so, be careful about your selection.
Usually, we would advice people to choose shopfitting display units that are not only affordable and practical but neutral as well. Going too far off the end of being creative could result in regret later on when there's a change of image or if shop owners try to implement revamps to their shops.
If you can't decide or are unsure, it is best that you consult with a professional about it. For one, if you have the budget for it, consider hiring an interior designer who can give you a list of shopfitting display units to choose from. The good ones will usually give you a rather extensive list of products to choose from. If you, however, don't have the budget for it, speak to a professional shopfitting products manufacturer's sales person. If they have been in the business for some time, they should know that 'giving advice to potential customers' is like dangling a carrot right in front of a camel. It makes them trot faster and in the right direction.
*** *** ***
THIS ARTICLE IS COURTESY OF....
For ideas and uniquely different yet affordable shopfitting and wall-mounted display systems, check out our Decowall Plankwall wall-mounted retail outlet shop display system right now. Be stunned with our flexible and affordable these wall-mounted display systems can be. Formedge is a leading Malaysian-based exhibition and shopfitting display system provider. It's a name that you can trust...
Republication rights: This article is copyrighted by Formedge (M) Sdn. Bhd. Please do not reuse, republish with or without editing the article and altering the article without explicit permission from Formedge (M) Sdn. Bhd. If you wish to republish this article in your blog or website, please copy and paste the above paragraph (including the links) after the article.