Resources, Links, Ideas & Articles on Exhibition Shopfitting Retail Display Systems - In and Beyond Malaysia, Asia
A Wheely Good Idea
July 12th , 2009
Portability is often an issue when space is of a concern. When you need to transport things from one place to another, it turns into somewhat of a nightmare because you might have little bits and pieces of stuff you'll have to move one by one…from one place to another. That's where wheels would come in handy.
It's a very simple solution and it's called the Wagon. It's a smart display, so we call it the Smart Wagon.
A good wagon will come with castor wheels so that they don't rust easily, especially when it's exposed to the sun a lot. Oiling the wheels regularly also keeps it in good shape. It's annoying when the wheels are faulty and gets stuck when you wheel them around. Ask the sales person about the lifespan of the wagon. A good portable display system like this should last you at least a decade of extensive use.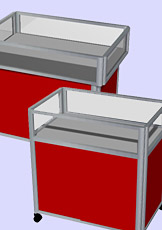 Storage space – on some of these wagons, the designers make it a point to build storage space right underneath the display area which you can use as a storage space for products and paperwork. Emergency add-ons or refills can be fitted into the comfortably-sized spaces right under the display rack.
Advertise yourself – With some wagons, fitting an advert in the form of a poster is possible. Get the advertisement printed out and simply paste it onto the sides of the wagon. This way, you get extra exposure just by wheeling the wagon around or putting it in an obvious location that will attract extra attention.
Glass encasement – The area where you display the products can be either solid or glass. We would strongly suggest glass panels if you want visibility. The sales person can, literally, see through the panels and find stuff easily. The same goes for the customers who will have a breezier time browsing through the items. Making browsing and shopping easy for the customer is essential to the image that they will have on you.
Color option – Try not to get something that will blend too easily with the background. You need to make a stark contrast so that people can spot it from afar. This is key to marketing and promoting your products on a smart wagon.
*** *** ***
THIS ARTICLE IS COURTESY OF....
For ideas and uniquely different yet affordable shopfitting products and wall-mounted display systems, check out our Decowall Plankwall wall-mounted retail outlet shop display system right now. Be stunned with our flexible and affordable these wall-mounted display systems can be. Formedge is a leading Malaysian-based exhibition and shopfitting display system provider. It's a name that you can trust...
Republication rights: This article is copyrighted by Formedge (M) Sdn. Bhd. Please do not reuse, republish with or without editing the article and altering the article without explicit permission from Formedge (M) Sdn. Bhd. If you wish to republish this article in your blog or website, please copy and paste the above paragraph (including the links) after the article.