Resources, Links, Ideas & Articles on Exhibition Shopfitting Retail Display Systems - In and Beyond Malaysia, Asia
Why Conventional Racks Donít Work As Well
July 16th , 2009
I've been asked many times about why a conventional rack won't work as well as a proper exhibition or shopfitting system and I'll answer that here with five reasons.
Reason No.1 – You want long life….for the system and for you, of course. You want to invest in something that is timeless, flexible and can work for you over decades unfailingly and requires very little maintenance. And that is what you will get with a good shopfitting or exhibition system. The conventional types of display racks and shelves don't last very long because the quality of raw materials is not there. You might save a couple of bucks right now but in the long run, there are repercussions.
Reason No.2 – Flexibility, lightweight and mobility. Most of the conventional racks and shelves are not nearly as lightweight as you would like them to do. If they're light, then they're not worth your time and money. This is a fact. In order to get a good shopfitting system, you need good quality because that's the only way you're going to get value for your money.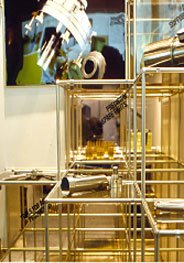 Reason No. 3 – Advice and service. If you get it from a reputable shopfitting company, they will know that giving advice and good service to its customers is an important part of business. Your satisfaction deserves a spot right there, on top of our list of priorities, and that is because it is important that customers get exactly what they want. Getting rack and shelves from people who do not specialize in shopfitting and exhibition system means that they won't be able to tell you EXACTLY what it is that you need in order to achieve the desired results.
Reason No. 4 – Maintenance and replacement. Let's assume that you'll be getting customer service if you buy conventional racks and shelves and that they are willing to speak to you, how far will they go to help you maintain the racks and shelves and replace parts for you? It is crucial that if things fall apart or there's a fault, the problem is fixed as instantaneously as possible.
Reason No. 5 – Creativity and innovation. Companies that specialize in shopfitting systems or exhibition systems know that the market changes all the time. Based on opinions and feedback gathered from its customers, specialists will come up with new ways and new products to help you bring attention to what you have to offer. In this regard, companies that don't specialize in marketing and promotion can't help you.
*** *** ***
THIS ARTICLE IS COURTESY OF....
For ideas and uniquely different yet affordable shopfitting products and wall-mounted display systems, check out our Decowall Plankwall wall-mounted retail outlet shop display system right now. Be stunned with our flexible and affordable these wall-mounted display systems can be. Formedge is a leading Malaysian-based exhibition and shopfitting display system provider. It's a name that you can trust...
Republication rights: This article is copyrighted by Formedge (M) Sdn. Bhd. Please do not reuse, republish with or without editing the article and altering the article without explicit permission from Formedge (M) Sdn. Bhd. If you wish to republish this article in your blog or website, please copy and paste the above paragraph (including the links) after the article.