Resources, Links, Ideas & Articles on Exhibition Shopfitting Retail Display Systems - In and Beyond Malaysia, Asia
Worth Your Money And Time – A Look Into Customizable Exhibition Display Systems
Nov 7th , 2008
Attending and being a part of a large exhibition where tens of thousands of people from the same or related industries is one of the best ways to spread the word or bring exponential exposure to your business. An exhibition may open up doors that have been left unopened and opportunities left unexplored. It's incredibly important to maximize the use of exhibition space that you have at the exhibition venue.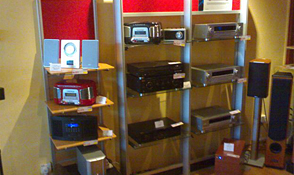 Customizing your own shelves and displays
Many of the display systems available today are not flexible enough to accommodate individual needs of exhibitors. Either these exhibition display systems costs an arm and a leg or they're not as lithe as they're said to be. Every inch of the floor and space given during the exhibition should be given their own individual identity and this…is something that you can achieve with customizable exhibition display systems.
Maintaining a professional image
What with the hundreds of exhibitors cluttered together within the same space and fighting for the same attention, loudness and attractiveness of the display area says a whole lot about the professional bearing of a company. The more attention you pay to the exhibition display area, the more attention you will bring to your products and services.
And since every company is fighting for the same people, a strong image created is a crucial war won over. Once the attendees leave the exhibition, they bring with them only the selected few images of companies, brand names, product brands and services with them. With a professional image, they leave for home with your name in their heads.
Reusability an important issue
Most companies attend exhibitions many times within the same year; hence, reusability of a customizable exhibition display system is critical. It would not make much sense to invest in a new set of display shelves every time there is a new exhibition.
Even with that said, we have to take into contention the fact that the exhibition display system is customizable to fit the new display area.
Cost-effective in the long run
As with all other forms of investments, cost will come into the picture too when you're hunting around for a (or a few) good set(s) of customizable exhibition display system(s). Based on research, feedback from other customers, client list and also the reputation of the company, form your own opinion about the quality of the products that you're about to purchase. Base the purchase on the opinion that you have formed about the company, the brand and the products.
It is immaterial how much the customizable exhibition display system cost NOW because what you're REALLY looking at is how much it will save you in the long run.
*** *** ***
THIS ARTICLE IS COURTESY OF....
For ideas and uniquely different yet customizable exhibition display systems and wall-mounted display systems.Cost-effectiveness is what Formedge is about. Be stunned with our flexible and affordable these exhibition display systems can be. Formedge is a leading Malaysian-based exhibition and shopfitting display system provider. It's a name that you can trust...
Republication rights: This article is copyrighted by Formedge (M) Sdn. Bhd. Please do not reuse, republish with or without editing the article and altering the article without explicit permission from Formedge (M) Sdn. Bhd. If you wish to republish this article in your blog or website, please copy and paste the above paragraph (including the links) after the article.